Bali National Model of United Nations (BNMUN) 2016 is a United Nations conference simulation presented by the Udayana University International Relations Model of United Nations (MUN) Community and Komahi Udayana, It was conducted on the 8th-11th of August 2016.
Bali National MUN calls on the youth, the generation of tomorrow, to step forward and discuss the most pressing issues in the world today. There were approximately 100 students from a number of universities across Indonesia that participated as delegates for the Bali National MUN.
Three IULI students majoring in International Relations, Nanda Vima Tasha, Andrea Jane, and Faiq Faishal, had the opportunity to join as delegates of Bali National MUN 2016. All three were supervised by Ben Laksana, head of IULI's International Relations study program, in preparing their position papers and mentoring them in defending their positions during the conference.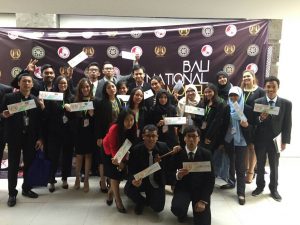 The conference was divided into three committees: United Nations Educational, Scientific and Cultural Organization (UNESCO) – Finding the Equilibrium: Sustainable Tourism and World Heritage (Single delegate), United Nations Human Rights Council (UNHCR) – International Provision of Child Labor (Single delegate), and last the United Nations Security Council – 2133 Mars Crisis (Double delegates).
Nanda Vima Tasha and Faiq Faishal joined as the delegates in the UNHRC council. While Andrea Jane joined as a delegate in the UNESCO council and was awarded an Honorable Mention and Best Position Paper of BNMUN 2016.