In order to help prepare the new students for university life, International University Liaison Indonesia (IULI) held an Innovation Week for 5 days on July 25-29, 2016.
The Innovation week gave students information about, among other things, student life (academic regulations, study programs, the lecturers and staff, student organizations, the IULI IT System, and student insurance), group projects, a talent show, and game competitions.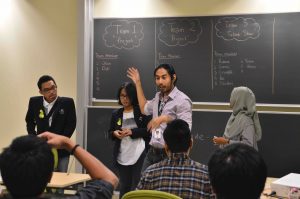 On the first day, the Innovation Week was opened with remarks from the Rector of IULI, Dr. Ir. Tutuko Prajogo, MSMfgE. On the second day, the students got insight into how to start an entrepreneurship business from Budi Utoyo. On the third day, the students were motivated to become awesome students by Saut Sitompul. The fourth day was the Sports Day. There was basketball, futsal, and team work games by several groups.
On the fifth and last day of Innovation Week, there was the official acceptance ceremony of the new students, announced by Dipl.-Ing. Maralo Sinaga as the chairman of the IULI senate. There were group projects and a talent show as well. The group project was a competition where each group had the task of solving a current environmental problems using technology. Five groups showed different talents during the talent show, such as singing, drama, theater and dancing.