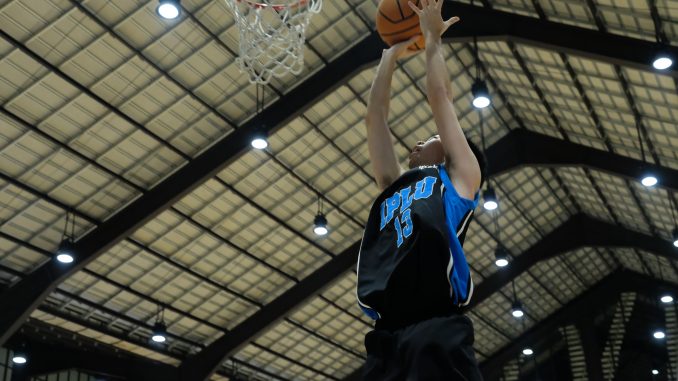 The IULI Internal Cup brings together the top athletes and Gamers on campus to compete in various sports and games. Our 7th event offers some of the most explosive and exciting competition of any Internal Cup series. The chairman of the event was Ezra Favian from Aviation Engineering 2017 together with the vice chairman Dwi Cahyo Wibowo from Industrial Engineering 2017.
We were proud to watch our students as they battle fiercely for the title of the Champion of Champions 2018. This year 8 teams have geared up for Futsal, Badminton, Basketball and E-Sports (Online Games).
The IULI Internal Cup is set to propel the students' talents and skills to new heights of excellence with the ultimate showdown for team champions following a spectacular season of competitions.
Here's a list of the winners:
Sport
NAMES
Study Program
MEN'S FUTSAL
NAUFAL GHANI
MEE 2017
 
ARIF JABBAR ABDILLAH
MEE 2017
 
M HOIRI AKBAR
MEE 2017
 
CHRISVALDO SASINGEN
MEE 2017
 
FADLAN NAZHIF ISKANDAR
AUE 2018
 
KRISNA ERIC Y
MTE 2017
 
LUTHFAN ALDI LAZAROH
MEE 2018
WOMEN'S FUTSAL
SONYA INDRIASTUTI
INE 2017
 
DEARETTA PUTRI RAMADHANI
CSE 2017
 
TAZKYA RIBKA ATHA PERTIWI
AVE 2017
 
CALLISTA SHEKAR AYU SUPRIONO
INE 2018
 
FLORENSIA YOVITA
AVE 2015
 
BERNADETH VIONIRIANTY
AVE 2016
 
ROSMAHARIYANTI FATIMAH
AVE 2018
 
MEN'S BADMINTON
YOHANES SAMUEL
INE 2016
 
PATRICK HANZEL
MTE 2016
WOMEN's BADMINTON
ROSMAHARIYANTI FATIMAH
AVE 2018
 
DEARETTA PUTRI RAMADHANI
CSE 2017
 
E-SPORT MOBILE LEGEND
LUTHFAN ALDI LAZAROH
MEE 2018
 
FADHIL ATHALLAH SAPUTRA
AVE 2018
 
I MADE PRADANA KUSUMA PUTRA
AVE 2018
 
RONANDA PARAMAYUDA
MTE 2018
 
DYHAN MUHAMMAD ARDAN
MTE 2018
 
NOEL OCTAVIANO
MEE 2018
E-SPORT DOTA 2
MUHAMMAD ZACKY RIZANO
CHE 2015
 
CHE GIVARA MOZA
BME 2015
 
M ABDUH VERDIANSYAH
CSE 2017
 
NYOMAN AGUS BUDI HANIFAN
CHE 2018
 
MUHAMMAD RIZKY USMAN
BME 2015
 
MEN'S BASKETBALL
JORDAN YAP HONG YONG
AVE 2017
 
MARCELL RAFFAELLO HARTANTO
INE 2017
 
DANIEL WILBERT HENDRASON
INE 2017
 
FAISAL TRI MULYAWAN
AVE 2017
 
ACHMAD HELMY FIKRIANSYAH BUANA PUTRA
AVE 2017
 
NAUFAL GHANI
MEE 2017
WOMEN'S BASKETBALL
FELIA
INR 2016
 
SARASWATI HARISCHANDRA
HTM 2016
 
ALEXANDRINA MEDIANTI
INR 2017
 
KEZIA PRICILLA MARAMIS
IBA 2018
 
MALINDA SHELLA RAHMADANI
IBA 2016
 
ANJANETTE LOUISE JULIANA
INR 2016
 
GRACIELLA
INR 2018