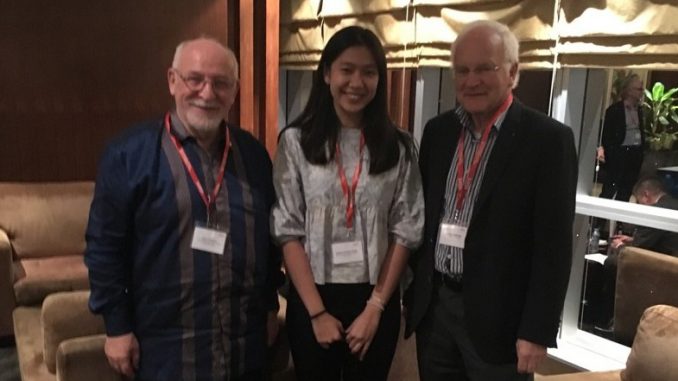 6 March 2017 – Jessica Natalie, a student from International Relations represented IULI in the Stein am Rhein (stars) Indonesia Study Tour 2017. In order to enhance a better understanding of Indonesia, both its opportunities and challenges, stars held a study tour in Indonesia for the very first time. stars is a neutral, independent, not-for-profit organization registered in Switzerland.  It aims to develop a better generation of leaders and to be the first platform for these future leaders by preparing them for their future global leadership roles. The stars program was designed for international participants whose ages varied from 35 to 45 years old. The participants are not only from all over the world but also from different sectors of interest. Although members were mainly from business, there were also scientists, doctors, politicians, ministers, NGO members and representatives of the media.
"Thrilling and exciting are the words I would use if anyone asked me to sum up my stars study tour experience. The program taught me a lot! It taught me how to communicate with people professionally, how to network, how to attract people's attention and how to give a quality talk. Overall, it broadened my horizons. Being the youngest in the group helped me to learn a lot from everyone because people were so helpful and sharing of their experiences. It was hard to adjust at first, but each day gave me more opportunities to learn and to grow." Jessica Natalie said.
The program ran for 4 days and 3 nights based in the Shangri-La Hotel, Jakarta. stars met many panelists well informed about Indonesia; familiar names such as Dewi Fortuna Anwar, Dino Patti Djalal, Tom Lembong, Arief Rachmat and Arsjad Rasjid were all there to share their experiences The Swiss ambassador for Indonesia, Dr. Yvonne Baumann, also attended the event along with stars chairman, Dr. Toni Schoenenberger. However, the study tour also took in the CT Corp's HQ, Emtek's HQ, and BSD City to hear from Sinar Mas about their state of the art smart city in the making. IULI, as one of stars' partners participated in the event as participants and also as the VIP guides that assisted the international guests and also accompanied them sightseeing in the beautiful city of Jakarta.