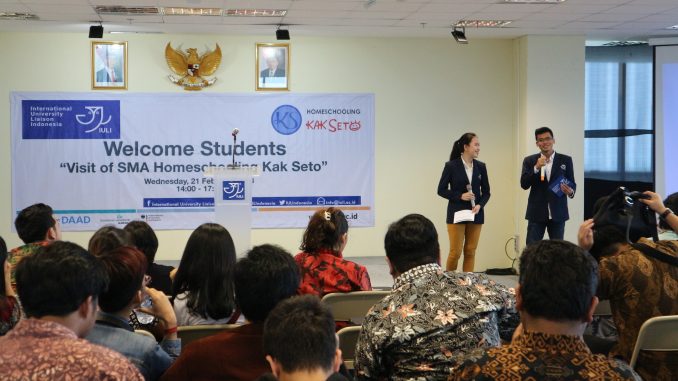 Home schooling is a system of education or learning that is conducted at 'home'. Homeschooling Kak Seto (HSKS) is an alternative school where students get to study at home or anywhere they feel "at home". This approach makes the students feel comfortable as they can study anything they like, anywhere they want, without actually having to be at their actual home. The study schedule is also quite flexible so they can manage their own time.
The high-school students of HSKS came to visit our IULI campus on Wednesday, 21 February 2018 to consider their options for higher education. The students had the chance to take a closer look at our IULI campus and also join a sharing session with HSKS alumni who have enrolled in IULI.
IULI students also held some presentations to showcase their respective faculties so that the visitors were able to get an idea about which field of study they might be interested in.
To complete the event, the HSKS students participated in an English Competency Test as an opportunity to get accepted in IULI.
The afternoon was a time of fun and activities for the Kak Seto and IULI students. Friendships were made and the HSKS left with a much better idea of what IULI has to offer.