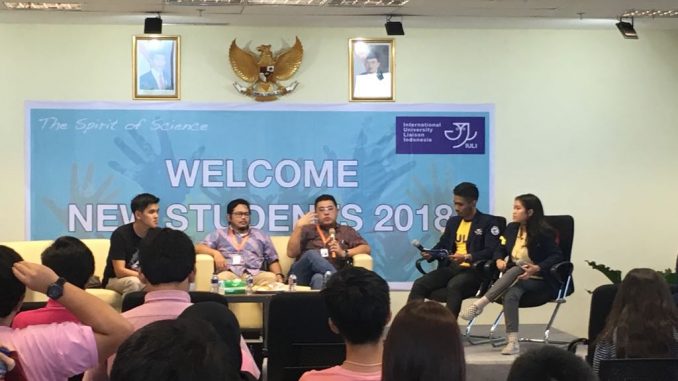 25 July 2018- Today is the third day of the Orientation Week and the new students are feeling very much at home at their new campus. The day started off with another fun game called "landmark hunt" which gave the students tasks to solve riddles and take pictures at specific places and with specific people on campus.
After the challenging and fun game ended, the students gathered in the hall to enjoy a motivational speech and sharing session by young and inspiring professionals: Samuel Lumentut, who works in Master Internet Indonesia and specializes in Digital Marketing, Urip Irawan from PT. Kokoh Bangun Persada, also distributor of Tunggal Golf Car Yamaha, and supplier of "ikan hias" and Aditya Nova, owner of Tutup Panci Restaurant. Together they shared their experiences in their professional life, especially while facing today's digitalization era. It was an educative and memorable talk-show session and the students are well equipped with tips and tricks to face the future challenges in the work field.
The day ended with a very dynamic, engaging and educative group project about Indonesian history conducted by Mr. Haryo Rahmadi IULI's very own Civics lecturer. This project was a great way for the students to improve their sense of nationalism.